Best Spray Tan Studio in Manchester, NH.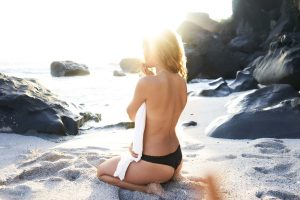 Whether you are looking to book a spray tan for your wedding, bodybuilding competition, or just want to feel great for that special occasion, you've come to the right place for the best spray tan near you.
Quality Over Quantity
I book my spray tans in 30 minute intervals.  Although the actual process of airbrushing the tan on only takes about 10 minutes, I prefer to give each of my clients my undivided and unrushed attention. If you happen to be running 5 minutes late, I've built in extra time for that.  If you would like to show me your wedding dress and chat about exactly what kind of color you would like. I've built in time for that.  If you are thinking about purchasing some products but would like me to go into detail about each one. I've built in time for that. I started this spray tan business because I LOVE getting to know each of my clients.  For me it's not about getting in and out.  It's about giving you a pampered experience.
High End Luxury Express Rinse Spray Tans
Hate having to sleep in your spray tan?  Waking up to orange sheets and stained hands?  Waiting around for 8 hours unable to wash your hands, do the dishes, and get to the gym?  Well that is no longer a concern for you.  Our spray tan solutions are rapid/express spray tans so you can rinse in as little as one hour!  I do not upcharge for this luxury. Instead I like each and every client to be pampered with my luxe solutions.  My airbrush solutions are created with high end ingredients that are imported from Paris.  They are packed with pharmaceutical grade anti-aging and moisturizing ingredients. I order my solutions in small quantities to ensure that they are always fresh and preserved.  I am proud to say I offer the longest lasting spray tans in Manchester, NH.
A Flawless Spray Tan. Every time.
Preparing your skin properly before a spray is the key to a flawless  airbrush tan.  I have taken a great deal of time preparing a list of the do's and don'ts for before, during, and after your airbrush tan.  To read our Tan Care instructions click here.   By offering rapid express rinse spray tans I help to eliminate the chances of you accidently messing it up while it is developing.  By not having to sleep in your spray tan I also remove the chance of you getting any unwanted spray tan discoloration on your body.
Feeling Warm and Welcome
It can be a little uncomfortable to meet a stranger and then immediately undress to have a service performed.  I totally get it!  But I LOVE spray tanning and making my clients feel even more beautiful than they already are.  So don't sweat it.  I am concentrating on giving you a flawless glow head to toe!
A Beautiful Natural Glow
I pride myself on providing natural looking spray tans. My spray tans are never orange.  A spray tan should enhance your natural beauty and give you subtle and natural glow!  Looking to get a dark spray tan before vacation spray tan? I've got you covered there too.  By creating a custom blend for your skin type and skin tone, I can create a color that will look absolutely FLAWLESS whether you want a delicate glow or dark and bronzy glow.